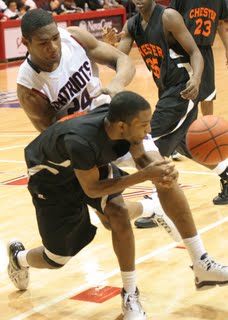 As I posted yesterday, I had the chance last night to see the Bensalem game at host Penn Wood. Penn Wood is known for their toughness, and for the vast majority of the game, Bensalem matched that intensity. Until collapsing in the final two minutes, Bensalem played a terrific 2nd, 3rd, and 4th quarters. The evening was also senior night for Penn Wood. Starters Tyree Johnson, Dequan Pelzer, and Will Brown were honored as well as Chris Warner. Johnson is going to Hartford next year, while Pelzer and Brown are still undecided. Both are college-level players with a number of schools involved. Two players for Penn Wood are of interest to Saint Joseph's as well as other programs. Those juniors are wing Aaron Brown and space-eating center Shawn Oakman.
Aaron Brown is a 6'4-6'5, physically imposing wing guard. This was my second time this year seeing Aaron, and he once again put on an impressive performance. Aaron scored 10 points in the game's opening minutes on an array of 3-pointers, drives, and alley-oops. He helped Penn Wood out to their early 16-3 lead. Aaron was in foul trouble during the majority of the game, which certainly played a role in Bensalem getting back in the game, and in fact almost winning it. He finished the game with roughly 20 points and his fair share of rebounds. Aaron's jumper looked significantly better than when I last saw him, and that was less than two months ago. If Aaron's jump-shot continues to improve as it has so far this year, he is a big-time wing guard at the college level. When you watch Aaron play, you see the tools in place to really be a lock-down defender at the college level as well. Aaron is a terrific rebounder from the wing spot due to his athleticism, toughness, and nose for the ball. Saint Joseph's, Temple, Richmond, Penn State, Providence, and Maryland are among the many schools involved with Brown, according to The Delaware County Times' Jack McCaffery. A link to his article on Brown is below.
Shawn Oakman is simply unlike anyone that I've ever seen in person at the high school level. When you look at Shawn you feel like you are watching an NBA or NFL player. His combination of size and strength really is unmatched in the area. Oakman is currently being recruited at a higher level as a football player. When schools like NC State, Penn State, Ohio State, and West Virginia are looking at you, you certainly look back. On the basketball court, Oakman is a space-eater who is a defensive presence and then some. Oakman had 9 points by my count, including two highlight-reel dunks that brought the crowd to their feet. Shawn also blocked a shot that you could hear, even above the raucous crowd. Below I have linked a great interview with Delco Times sports writer Chris Vito and Oakman. You have to scroll about halfway down the page to see the interview. He discusses his thoughts on playing football in college versus football. He lists the Hawks as one of the schools after him for hoops, as well as Miami, Providence, Houston, Marquette, and Pitt. The interest is certainly warranted as Oakman is the type of post presence that every college team could use.
The picture above is of Shawn Oakman from Chris Vito's interview linked below.
Jack McCaffery Article on Aaron Brown
Chris Vito Interview with Shawn Oakman