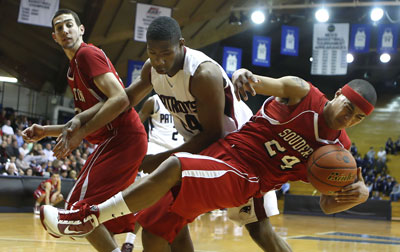 Last night I made my way over to Villanova for the two 4A district semifinal games. While neither game was especially close or competitive, the stage is now set for a game that many people have been waiting for since December. At 9:00 on Friday night at Nova, Penn Wood and Plymouth-Whitemarsh will take the court for the district title. I have a write-up on some of the standout players in both games below. Keep in mind, while reading, that I don't keep stats myself at games. Some of the numbers may not be perfect, but most are from Philly.com articles that are linked below.
Penn Wood is loaded with Division 1 talent. This was my second time this week seeing them play, and it's amazing how roles on the team can change. When I saw Penn Wood beat Bensalem last Tuesday night, it was the Aaron Brown show. Brown was dominant while senior Hartford-bound guard Tyree Johnson had a rough outing. Last night it was Tyree Johnson and Shawn Oakman with the most impressive performances. Tyree had 15 points and more than half a dozen assists while really controlling the game's tempo. Penn Wood's size was just too much for Souderton. Shawn Oakman played as well as I've ever seen him play. What really impresses you about Oakman is his great feel around the basket and great hands. He is as physically imposing a force as you'll find in high school basketball, but he also possesses great hands that allow him to catch just about any ball in his direction. Shawn also showed good shooting touch on a jumper from the right wing. For the most part, his points will come in the paint, but that's not a bad thing. Someone with his size and feel around the bucket shouldn't worry about spending much time away from it.
When I looked at the box score linked below after the game last night, I shook my head when I saw Aaron Brown's line. He finished the game with 15 points and 9 rebounds, which is very solid. And he did that while playing the least impressive game I've seen from him this year. Early in the game, Aaron's jumper was not falling the way that it was last week. In the first quarter, he went up strong for a two-handed dunk, was hit, but the whistles remained silent. There was definitely some frustration evident in his demeanor the rest of the half. Penn Wood won the game going away and did not need anything more from Aaron last night. Despite it being an off game for Brown, he still showed some real flashes. He displayed his athleticism on a monster fast-break dunk. Aaron also buried a 3 in the 4th quarter from the right wing. Brown is one of SJU's top targets in the 2011 recruiting class. That was evident in assistant coach Geoff Arnold's presence in the crowd at Nova.
Game 2 featured top-seeded Plymouth-Whitemarsh and a talented West Chester Rustin team. Unfortunately for W.C. Rustin fans, this one was over shortly after it began. PW won the game going away, 79-47. PW's bigmen, senior CJ Aiken and junior Jaylen Bond, were too much for West Chester. Aiken had a triple-double (12 pts, 12 boards, and 12 blocks) in the win while Bond had 17 points and 17 boards. Aiken's uncanny ability to block shots was on full display last night. In the first quarter, West Chester players continued to drive the lane past Aiken, and time and again, their shots were swatted away. CJ's points were almost all right around the bucket on a flurry of acrobatic dunks and layups. On one particular play, Aiken followed up a Jaylen Bond miss and dunked the ball home with both arms elevated way above the rim. He is a human pogo stick around the basket. Aiken has the talent to be a real difference-maker on Hawk Hill. At first, it may be mostly on the defensive side of the ball, but CJ is not nearly as raw offensively as most high school bigs.
This was one of the best outings I've seen from junior Jaylen Bond. Bond has an interesting decision ahead of him. He could be an all-league player for 2 or 3 years in a conference like the A10 or work his way into a rotation on a Big East or ACC school. That is not a knock on Bond. Not in the least. He is an absolute force around the basket. While he is undersized for a college 4, standing around 6'6, he has the strength and athleticism to play that position in college. It would be an adjustment for him to play the 4 in the Big East due to his height. Can Jaylen turn into a college 3? Possibly. What I saw last night, however, was a player who is a force around the basket. Temple is recruiting Bond hard, and he would be a great get for Fran Dunphy. On the flipside, a top program in the A10 is probably a great fit for Bond. He is an incredible talent who impressed me again last night.
Plymouth-Whitemarsh's bigs get all the attention, but, as I've said before on here, Whis Grant is very underrated in the area. Whis, along with the other PW guards, is a terrific on-ball defender. He also plays a terrific floor game, which was evident again last night. I don't know what schools are looking at Grant, but he looks like a player that should have a terrific career at the right program. I'm really interested and curious to see where Whis plays his college ball next year.
I am planning on attending the title game Friday night, so check back here for a recap on Saturday.
Penn Wood Recap from Philly.com
Delco Times Article on Plymouth-Whitemarsh Win
Picture above of Penn Wood's Shawn Oakman from Rick O'Brien's article linked above.