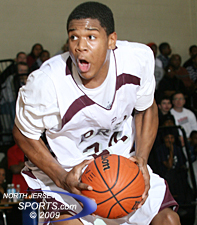 After weeks of speculation since Norm Roberts was fired at Saint John's, some news broke earlier today about Saint John's one and only 2010 basketball commitment. That commitment, 6'7 Saint Peter's Prep forward Ronald Roberts, was released from his letter of intent at Saint John's earlier today.
I received confirmation of this from Saint Peter's Prep head coach Mike Kelly.
Where will Ronald end up now that his recruitment is once again open? That is the question that many people want an answer to. With regards to Saint Joseph's, Coach Kelly told me, "Saint Joe's is a great option for Ronald as he and his family evaluate his opportunities."
Adam Zagoria of Zagsblog spoke with Kelly earlier today about Roberts' future, and he also spoke then about the Hawks."Coach [Phil] Martelli has gotten a number of guys into the pros and had some great teams so they're definitely high on our list. But Ron hasn't made any firm decisions yet."
That quote is from the Zagsblog article linked below:
Zagsblog Article on Ron Roberts
The picture of Roberts above is from Northjerseysports.com