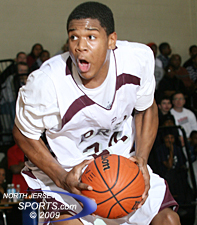 Late last night, news broke that Saint Peter's Prep forward Ronald Roberts had made his college decision...for a second time. Ronald originally signed with Saint John's during the Early Signing Period, then reopened his recruitment when Norm Roberts was fired at Saint John's. This time around, Ron narrowed his choices to Saint Joseph's, Georgia Tech, and the University of Virginia. Last night, the decision was made and Ron called Saint Joseph's head coach Phil Martelli to give him the good news.
Ronald joins a 2010 recruiting class that already includes 6'9 CJ Aiken, 6'7 Daryus Quarles, 6'3 Pat Swilling Jr, and 6'2 Langston Galloway. Roberts, one of the best seniors in North Jersey, will join Quarles, one of the best seniors in South Jersey, on Hawk Hill next year.
Earlier today, I got the opportunity to speak with Roberts' high school coach, Mike Kelly, about his star senior's game and college decision.
According to Kelly, Coach Martelli and assistant coach Mark Bass began recruiting Roberts roughly a year and a half ago. During that time, Ron developed a strong bond with the Hawk coaches, but he ultimately dreamed of playing Big East basketball. When Saint John's came knocking, the allure of the Big East and of playing in Madison Square Garden made it an easy sell. After making this choice, Ron called the Hawk coaches and thanked them for the time they spent recruiting him. When Ronald reopened his recruitment, it was only natural for the Hawks to be one of the schools at the top of his new list.
As anyone who has followed this recruitment knows, his commitment to Saint Joseph's did not happen overnight. While Ronald felt a strong connection to the Hawk coaching staff, he was still intrigued by the notion of playing in a "power conference." The University of Virginia and Georgia Tech, both ACC schools, showed interest in Ron. That interest even went so far as a visit to UVA and a scheduled visit to Georgia Tech.
In the end, Ronald chose the Hawks for a number of reasons. According to Mike Kelly, Roberts' relationship with Phil Martelli was one of the top reasons for signing with Saint Joseph's. He is aware of the Hawks currently playing in the NBA (Jameer Nelson of the Magic, Delonte West of the Cavaliers, and Dwayne Jones of the Suns) and aims to ultimately join them one day. The strength of this recruiting class, and the opportunity to be a part of something special on Hawk Hill, also played a vital role in his signing.
Mike Kelly also broke down Roberts' game for me. I will post that article either later tonight or early tomorrow. For now, for those who haven't seen it, you can get a glimpse of the future Hawk in the youtube clip linked below:
Roberts' Youtube Segment
Photo Above of Roberts Courtesy of NorthJerseySports.com