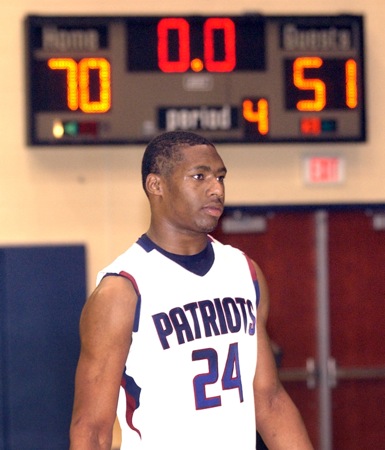 Over the course of this week, I have posted recaps of Sunday's Hakim Warrick Classic. If you missed any of those articles, they are linked at the bottom of this. They focus on the Friends' Central-Saint Anthony game.
The day's first game, between Neshaminy and Penn Wood, seemingly had the makings of an entertaining game. Both teams star Big East recruits. Neshaminy junior guard Ryan Arcidiacono has already given a verbal pledge to Jay Wright and Villanova. On the other side of the ball, Penn Wood wing Aaron Brown will be playing for Bob Huggins and West Virginia next year. Unfortunately, Neshaminy was never able to establish themselves on the court, and found themselves trailing 48-27 at the half, and ultimately losing 85-49. Below are player recaps of Arcidiacono, Brown, Sean Oakman, and Darian Barnes.
Ryan Arcidiacono- Neshaminy Junior
: Arcidiacono is clearly the key to the success that Neshaminy has found over the past two years. They go as Ryan goes. On Saturday, he was kept in check by Penn Wood's physical defense and held to only 10 points. Penn Wood threw a number of defenses at Neshaminy with the sole intention of stopping Ryan. He was double-teamed nearly every time he touched the ball. Ryan exerted so much energy simply getting the ball, and when he got it, he was trapped, double-teamed, and frustrated. To his credit, Ryan didn't back down at all from Penn Wood's physical play and toughness. Standing 6'3, Ryan is strong and willing to mix it up inside. Unfortunately, on this day, he was unable to get it going offensively. Neshaminy is still one of the better teams in the region, but on this day it was all Penn Wood. Neshaminy had no answer inside for Sean Oakman, Darian Barnes, or Aaron Brown.
Aaron Brown-Penn Wood Senior
: This was my first time seeing Aaron since last season's state final contest against Plymouth-Whitemarsh. Right off the bat, it was evident that Aaron has bulked up, adding muscle to an already strong frame. He is a muscular, athletic, 6'5 wing that certainly looks the part. On Saturday, he played the part too, in front of West Virginia assistant coach Billy Hahn. Aaron won MVP honors for Penn Wood with his 29-point, 12-rebound performance. Aaron scored the ball just about every way imaginable. He has always been a tremendous finisher around the basket due to his tenacity and athleticism. On Saturday, he showed some perimeter skills that were still a work in progress last year. Aaron knocked down shots from three and hit perimeter shots off the dribble. Every time I saw Aaron last year, I was impressed by his competitive nature. However, at times he appeared to sulk. That was not an issue on Sunday, as his play and on-court demeanor were both tremendous. Aaron looks like a player that will be able to play the wing at the Big East level next year for West Virginia.
Shawn Oakman-Penn Wood Senior
(Pictured Above): The Penn Wood big man was just too much for Neshaminy inside. There are few bigs in the area that can match up well with Oakman, who is headed to Penn State next year to play football for Joe Paterno. While not the most polished player, Shawn would have had himself a nice college basketball career if he had chosen that route. Not only is he an absolute load in the middle, but Shawn has a nice, soft touch from the free throw line and can hit the mid-range jumper. Sean had 15 points in the game, and although I don't have an official rebound total, he certainly had an impact on the boards. The 6'8 250 pound senior is basically a walking double-double. On Sunday, he was just too much for Neshaminy in the paint.
Darian Barnes-Penn Wood Senior
: While Aaron Brown and Sean Oakman get the bulk of the press for Penn Wood, senior Darian Barnes also plays a critical role. Barnes impressed me last season every time I saw Penn Wood, and he was no different on Sunday. Currently, Barnes is unsigned, but he certainly looks like a player that could have a nice college career at the right school. When you look at Barnes, the first thing you notice is his ridiculous length. Darian is 6'8, but looks to have a wingspan well over 7 feet. He uses this length and athleticism on both sides of the ball. For Penn Wood, Darian is the finesse to Oakman's brute strength. Although they are roughly the same height, Oakman seems to have an easy 60 or 70 pounds on Barnes. Darian will have to add muscle to his frame in order to really live up to his potential. At the moment, he is a player that contributes by blocking shots, scoring in transition, and getting rebounds. His size, length, and athleticism make him a really interesting prospect. According to ESPN.com, Mount Saint Mary's and Robert Morris are two schools interested in him. Darian is someone that I am hoping to follow up on as the district and state playoffs begin.
Recap Part One
Recap Part Two
Picture of Shawn Oakman above courtesy of the Delco Times.